Lichess.Org Live TV & Daily Puzzle.
Chess Books I Have Found Helpful.
PDF Formats
1963 US Chess Championship ( Bobby Fischer's Amazing 11-0 run )
Keres'_Best_Games_of_Chess_1931-1948 ( Paul Keres Is One Of My Favorite Players Of All Time )
Vol 10 Selected Brilliancies 032518 printed book ( Carsten Is One Of My Favorite Chess Trainers )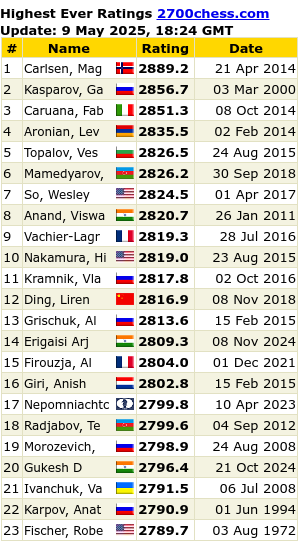 Chess News & More.t
The Second-Largest Chess Event Is Coming June 17th, The Candidates Tourney.
I truly am excited about this Candidate's Tourney. I have not really been up on chess day to day like I was before the Ukraine debacle. However, I am turning it on now because this is a fabulous tourney with each challenger someone you can root for.
I am silently preferential to Fabiano and Hikaru, who have been so good for the United States. Yet, all these candidates I like, and I have just two little hopes so's, that, might occur. One that Hikaru really shows his ability and makes it to the last stage, and the other for Teimour to just frustrate them all like he can. Surprising, picking up some wins along the way. Otherwise, let's shake hands and get on with the show! LOL.
Here is a nice article from Chess.com leading up to the tournament starting tomorrow.
A Unique Article On The Benefits Of Chess On The Mind And More.
June 9th, 2022
Here is an article from Kasparovchess on the effects of chess on the mind. I think you will find it quite fascinating.
https://kasparovchess.com/articles/178
Current News And Events In Chess, etc..
May 12th, 2022
We have had a lot happen since I last posted here on any chess news. There has been a tumultuous war between Russia and Ukraine, as Russia attacked it without provocation. Also, the Supreme Court has shaken up the future of America with a provocative brief considering regulating women's reproductive rights. It has just been an insane few months, to say the least. For chess though, the war has been the seismic rift in all that is chess. Leaving numerous feelings on the table, and causing a big upheaval.
Considering how big chess is in Eastern Europe, the war in Ukraine has had a massive effect on the game. The Russian Federation and many partners have been banned or regulated severely, and it has been an emotional roller coaster for the entire chess world.
Here is a recent article describing just some of that craziness from Chessbase.
Karjakin's Prank Call.
https://en.chessbase.com/post/karjakin-s-prank-call
February 27th, 2022
After The Devastating Invasion of a Sovereign Nation By Russia, FIDE & The International Chess Community Have Had A Meeting Of The Mind.
Here is the latest on this unbelievable event, and the scenario that ensued, that precipitated this turn of events. Read it from this news posting on Chess24.
https://chess24.com/en/read/news/fide-bans-russia-from-holding-chess-events
January 18th, 2022
The Tata Steel Chess Tourney Is Back.
The Tata Steel Chess Tourney is one of the best there is, and this year's participants are outstanding. Tata Steel offers a Master's and Challengers forum at the event, and usually has some of the best matches of the year.
I have a sentimental favorite in Sam Shankland, but I always root for him, as I have a lot of respect for his work ethic. However, the class of players in the tourney are outstanding and any time Magnus is playing well, he is typically the favorite.
Here is a report on the tourney from Kasparovchess.com. The fine British Grandmaster Gawain Jones is commentating.
https://kasparovchess.com/articles/143
January 2nd, 2022
Mikhail Tal The Magician Was A Humble And Good Man.
I loved this recent article on Chessbase concerning Mikhail Tal. Besides being one of the most intriguing characters of his generation. He changed forever the way many played chess. He just made chess fun and interesting for many.
In this paragraph in the article Milunka capsulizes Tal in such a personal way.
Milunka talks with tenderness about Tal's unordinary simplicity and modesty: "He was absolutely uninterested in material gains. If I had told him, 'Misha, there is a tournament in a little village close to Belgrade, we would love it if you could attend', he would have said: 'Okay, Milunka'. He did not carry anything in his suitcase. He never bought anything. Money for him had no significance whatsoever; it was just a burden to him. Never was and never will be another one like him".
Here is the link below to the online article.
Milunka Lazarević: "Tal is my Zeus" | ChessBase
From The Perpetual No. 2.
Paul Keres as many of you know, is one of my favorite chess grandmasters of all time. Here in this match with future World Champion Vassily Smyslov you can see why. His creativity on the board, and skill was always appreciated by those who have studied his games. Here in this match in Budapest, there is no exception to that rule.
Keres, Paul – Smyslov, Vassily V 1-0
Budapest Maroczy Memorial, Budapest (3), 1952.03.06
D28: QGA, Classical (7…b5)
1.d4 d5 2.c4 dxc4 3.e3 è f6 4.é xc4 e6 5.è f3 c5 6.O-O a6 7.å e2 b5 8.é d3 è c6 9.a4 b4 10.dxc5 é xc5 11.e4 e5 12.é e3 é xe3 13.å xe3 O-O 14.è bd2 è h5 15.è c4 è f4
16.ç fd1 è xd3 17.ç xd3 å e7 18.è b6 ç b8 19.ç c1 å b7 20.è d5 é d7 21.è d2 ã h8
22.è b3 ç fc8 23.è b6 å xb6 24.å xb6 ç xb6 25.ç xd7 ç bb8 26.g3 h6 27.ç xf7 è d4
28.ç xc8+ ç xc8 29.è xd4 exd4 30.ç d7 ç c2 31.ç xd4 ç xb2 32.ã g2 b3 33.ç b4 ã h7
34.ã f3 ç b1 35.ç b6 a5 36.ç b5 b2 37.ã f4 ã g6 38.h4 ã f6 39.h5 ã e6 40.ç b6+ ã e7
41.ã f5 ç h1 42.ç b7+ 1-0
Dec. 13th, 2021
Magnus Retains His World Chess Championship.
In a match between what we knew were exceptional players. Magnus showed steeled nerves and just the right moves to take advantage of Ian, and stay on as champion of WC.
Here is a summary article on the WC Final.
https://en.chessbase.com/post/world-championship-2021-g11
November 30th, 2021
Magnus And Ian Are Tied Now At 2-2 After A 4th Draw In WC Match.
Here is the summary of the match and analysis. Thanks to Fritz 18 for this.
November 15th, 2021
Magnus And Ian Face Off In Dubai For The FIDE World Championship. Coming Very Soon.
Here is an excellent article from Chess24 concerning the upcoming event through the eyes of a Sergey Karjakin former World Title challenger. He gives some excellent insights into the upcoming event.
I personally believe Magnus will find a way to win. However, Nepo really is not rattled at all by anyone, and without that somewhat magical invincibility aura. Well, I think psychologically Nepo is in a good place.
Karjakin: Magnus "can psychologically crumble" | chess24.com
October 20th, 2021
Wesley So Wins His Third US Chess Championship.
Wesley So came back to win an impressive 3rd US Chess Championship after a tense three way tie-break. Read the article below from kasparaovchess.com for a complete analysis.
https://kasparovchess.com/articles/113
September 22nd, 2021
Maxime Vachier-Lagrave On Preparation For Competition.
Maxime gives some useful tips in this article on Kasparovchess.com considering preparation for chess competition.
https://kasparovchess.com/articles/102
September 10th, 2021
Dominquez Secures First Tournament Victory Since Becoming Part Of the US Chess Federation.
Summary article of the the events of the tourney in St. Louis.
https://kasparovchess.com/articles/101
August 28th, 2021
MVL Wins Sinquefield in St. Louis
In a real close finish, MVL held on to win the tourney holding off Wesley So and others to becomes this year's champion.
Kasparovchess – Learn and improve playing chess online
August 11th, 2021
St. Louis Rapid/Blitz Tourney.
Starting Wednesday the 11th, 2021 The St. Louis Rapid/Blitz Tourney will begin. The tourney will feature some of the best rapid/blitz players in the world. I am excited Sam Shankland will be in the tourney, as he did so well in the World Cup. Wesley So who just came off a tournament victory in the Chessable Tourney will be on the roster of players as well. It is going to be a fantastic get together in St. Louis, I can't wait for it to start.
Here is a review of the Tourney.
https://en.chessbase.com/post/st-louis-rapid-and-blitz-2021-preview
August 3rd, 2021
Fide World Cup In Sochi.
It is down to two competitors in both the Men's and Women's final of the World Cup. Duda and Karjakin will face off tomorrow on the first leg of the Men's final, but the Women's was completed today as the Chessqueen Alexandra Kosteniuk won the Women's championship in a wonderful tactical battle.
https://kasparovchess.com/articles/77
July 2nd, 2021
Goldmoney Asian Rapid Sees Ding and Carlsen Knocked Out.
There will be more details later, but here is a link to a Chessbase.com article posted just a little while ago.
https://en.chessbase.com/post/goldmoney-asian-rapid-2021-live
July 1st, 2021
Wesley So Dominates And Wins A Major Tournament.
Here is a definitive article by Ian Rogers on the event for Kasparovchess.com.
https://kasparovchess.com/articles/56
May 18th, 2021
PlayMagnus Group Purchases AimChess As Part Of Its Platform.
AimChess has been purchased by the PlayMagnus Group. I have Play Magnus, Tactics Frenzy, Magnus Trainer & Chessable. I like Magnus Trainer and Chessable the best of the group. AimChess I have never had the privilege to use.
I already have such fantastic programs I use such as Chess Assistant 21, Shredder Chess 5 and others. I recommend these for those who seriously want to learn and play though. They are complete and very helpful.
Shredder Chess Chess Tutor for basics.
Chess King Platinum for leaning and practicing skills.
Chess King Learn which has 84 english programs teaching every level imaginable using for the most part from the original Soviet Chess system to modern day. Brought to us by former Women's Grandmaster Chess Champion Alexandra Kosteniuk.
Here is the link to an article talking about the purchase of AimChess by PlayMagnus.
https://chess24.com/en/read/news/aimchess-joins-play-magnus-group
May 1st., 2021
Ian To Face Magnus In Fide World Championship in Dubai.
Here is a nice article concerning the Candidates and upcoming World Championship.
https://worldchess.com/news/all/candidates-news-round-13-nepomniachtchi-is-the-next-challenger/
February 9th, 2021
Read this article about the three time Soviet Champion Leonid Stein. With so many great players in the 50's Thru the 70's like Tal, Bronstein, Keres, Botvinnik, Spassky and others. It is easy to miss one of the greatest players to have played the game.
https://www.chess.com/article/view/soviet-champion-leonid-stein#sovietschool
January 4th, 2021
Teimour Radjabov was methodical and very much so technically savvy in winning this tourney. He picked his spots and exploited opportunities in a extraordinary way.
Teimour Radjabov beats Levon Aronian, wins Airthings Masters | ChessBase
December 25th, 2020
Ivan Cheparinov wins the Sunway Sitges Tourney. This is a very competitive event played in Europe and has been going on for a couple of years now. It is one of the few over the board tourneys we have seen since the pandemic outbreak. I truly had my money on Anton Korobov whom I thought had an advantage. However, a variety of players placed ahead of Anton, whom I thought would be battling for the top. There were some nice matches.
Sunway Stitges Tourney Article Wrap Up From Chessbase.
October 4th, 2020
Fair Play And The Queen's Gambit.
Here is an excellent article on fair play and recognizing the popular new Netflix hit " The Queen's Gambit. " Enjoy it, it's a great article.
https://en.chessbase.com/post/fair-play-and-good-manners-in-chess
Sept. 29th, 2020
Paul Keres vs. Boris Spassky
Just always looking for games that intrigue me, and with Paul Keres being one of my favorites, this match even though a loss to Spassky is amazing in the accuracy of the two players.
Sept. 21st, 2020
Magnus & Wesley Tie For First in Rapid & Blitz Title In St. Louis.
https://www.chess.com/news/view/carlsen-so-win-2020-saint-louis-rapid-blitz
August 27th, 2020
Summer Chess And Covid.
Magnus continues to astound us all by pulling through online tourney victories with gritty determination. Hikaru Nakamura proves again that when it come to Blitz or Bullet he is second only to Magus. Anish Giri has played some fine tourney played play as well this summer, and is quite the online twitter guru as well. Peter Svidler put together some fine online tourneys, but not able to get to the finals as he would have liked, unfortunately he ran into a guy named Magnus in the semis, otherwise he could have had that final challenge he was striving for.
All in all chess has given us some great summer tourneys despite the classical approach of onsite chess being put aside during Covid concerns. We appreciate all those who worked to make this possible. From our current World Champ to Chess24, Chess.com and Lichess.org and various FIDE organizers. We all have benefited from some creative individuals during these past few months.
July 16th, 2020
A Great Article & Beginning Interview With Former Champion Legend Vishy
Anand.
Interview Link With Vishy Anand With Chessbase.
June 11th, 2020
Grandmaster Chess Champion Who Sees Racism in Chess Or Otherwise In A Very Personal Way.
Here is an article concerning GM Pontus Carlsson on racism in our age. A very powerful article to say the least, and it may catch you offguard.
Here is the link to that article:
https://www.chess.com/article/view/on-racism-gm-pontus-carlsson
June 6th, 2020
Behind On Updates. However, Chess Hasn't Taken A Hiatus, its ONLINE.
With all the Covid issues, live tourneys have been taking a back door. However, special events on Lichess.org, Chess.com and Chess24 have filled a lot of that void. There have been some wonderful blitz and other tourneys. On my live events page here on patrickvossen.com you can see some of those results.
Great victories by Carlsen, Grischuk, Dubov and Nakamura and others have been viewed by thousands. There even has been anonymous winners on Lichess.org, that have intrigued many online. Anyways, chess is not gone, but just gone ONLINE. LOL.
April 16th, 2020
Events All Over The World Are Canceled Because Of The Covid Virus. Online Chess Explodes To Fill In The Gaps.
With hundreds of chess events or opens cancelled. Chess has taken advantage of a huge opportunity with online chess. Even though there are concerns how they can truly secure a safe, or non-cheating environment in such venues. Nevertheless, Blitz and Rapid events are happening, with Classical matches for main events or super GM's being proposed. Whatever is in the making will be fine with me. The proliferation of new online events, and all these super GM's interacting with us regular joes. Well, its been fun to watch.
Chess24 has had two remarkable tourneys. A long running blitz tourney and the latest, the Pepe Cuenca Invitational.
Yesterday, in the Banter Blitz Championship it went right down to the wire with Magnus Carlsen the reigning champion losing to the young promising star Alireza Firouzja. It was a fabulous give and take match.
One of my favorite players of all time the 8 time Russian Champion Peter Svidler will face Jan Duda the promising young player from Poland in the Pepe Cuenca invitational shortly as well. I am looking forward to watching that match.
All this online activity I believe is for the best, and will see us develop a new world of opportunities for the Chess community in the years to come.
Here is the most recent article on the tourney and upcoming match with Svidler and Duda forthcoming.
https://chess24.com/en/read/news/it-s-a-svidler-duda-final
March 12th, 2020
Coronavirus Affecting Various Chess Events.
https://www.chess.com/news/view/coronavirus-which-chess-events-have-been-canceled
March 6th, 2020
Teimour Radjabov Withdraws From Candidates. Protesting The Tourney Should Be Postponed.
https://chess24.com/en/read/news/mvl-to-play-the-candidates-instead-of-radjabov
January 31st, 2020
Gibraltar Tournament was wild, with a myriad of players with the potential to win the tourney. Awesome ending!
Gibraltar Masters
https://chess24.com/en/read/news/paravyan-tan-zhongyi-win-2020-gibraltar-masters
January 24th, 2020
Will be starting a live Tourney page of Chess Events, or at least major ones on the website for fun. Check it out.
December 30th, 2019
Rapid and Blitz Champions in Moscow Shine.
Magnus won both the Rapid and Blitz. Hikaru had a great chance in tiebreaks to win in the Blitz side of the tourney, but couldn't pull it off. Rapid was dominated by Magnus.
Ladies Rapid Champion was Humpy Koneru. She did a fabulous job. I haven't got the results of the woman's Blitz Champion yet.
Chessbase Summary of Rapid Tourney In Moscow.
December 5th, 2019
Grand Chess Tour Final. MVL Faces Off With Ding Liren After Unusual Loss By Magnus.
Here is a link to one of the articles summarizing the event.
Fall 2019
Fischer Random World Championship
Four great challengers are facing off in a unique and popular form of chess. The world champion and three others are competing for the big prize. A fun event, where you see more real depth of humanity from the players, and less perfect lines worked out by studying computer variations to calculate. Its really an intriguing format to say the least.
Here is a link to a Chessbase article about the event.
Vladimir Kramnik's Illuminating Interview With Boris Gelfand's wife.
https://chess24.com/en/read/news/vladimir-kramnik-i-never-considered-myself-a-genius
Summer 2019
GM Whose Rating Had Climbed Exponentially Is Found Cheating.
In an unfortunate incident, a gentleman many were applauding for his great  success in his 50's has been found to be cheating. FIDE had been alerted, and had setup a situation with the arbiter to try to protect the game's integrity. They found exactly what they thought they would.
https://chess24.com/en/read/news/gm-igors-rausis-allegedly-caught-cheating
At Bangkok Open Jan Gustafsson And Nigel Short  Face Off.
April 12, 2019
In an excellent tug and war match. Jan and Nigel played to a tie. Jan one of the owners of Chess24 and Nigel former World Champion Challenger ( VP President of FIDE  ) gave a fine display of chess.